There aren't many things better than a nice big grilled steak!!! We've found stuffing grilled mushrooms with fun fillings like this Jalapeño popper stuffed portobello mushroom does satisfy the want for a steak. So, we often say we're having "Portobello Mushroom Steaks". What's not to love, they're really big and are as filling as a steak with a lot less calories. So, why not trick your mind, call them a portobello steak and enjoy a really fun dinner! Seriously, what we do often is grill one steak and a stuffed Portobello mushroom. We share them and find that it makes a fantastic filling dinner.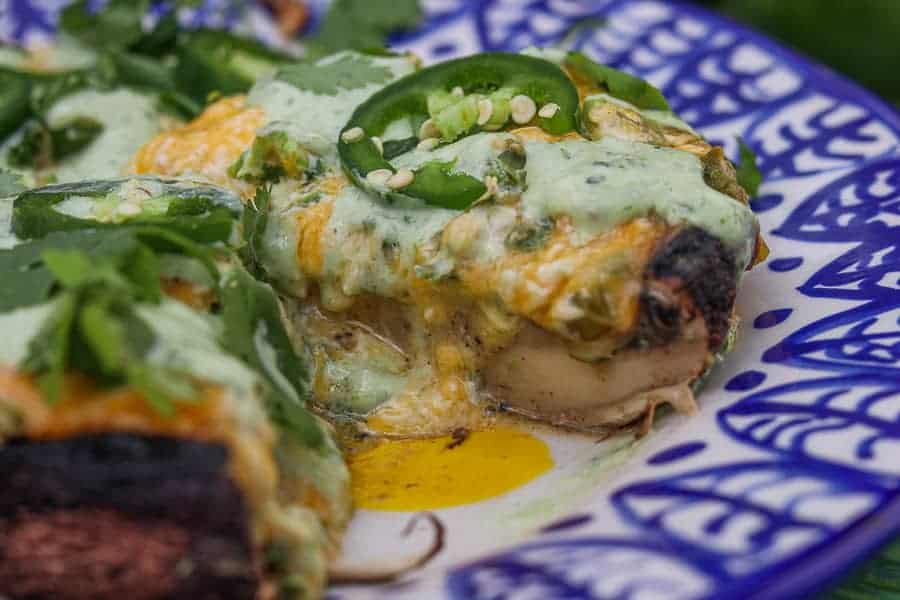 Stuffed Portobello Mushrooms
As I mentioned, our favorite way to have grilled Portobello mushrooms is to stuff them with some melty cheeses and toppings. Fo this Jalapeño Popper Stuffed Portobello Mushroom, we figured… we love Jalapeño Poppers (creamy, cheesy, spicy!!) why not turn them into a stuffing for a juicy Portobello Mushroom??? Let me just say, this was a great idea!!! The mushroom, with its earthy meaty texture and the cheesy Jalapeño made a wonderful combination.
A stuffed mushroom can make everyone happy even those that aren't big veggie eaters. I have to say I'm not that fond of mushrooms. For example, I will never put mushrooms on my salad and, depending on how they are cooked, I don't even like them in certain dishes. All of that goes out the window when it comes to stuffed Portobello mushrooms!! This is absolutely a great way to make everyone happy at dinner time. Bottom line, if you're making dinner for a big time carnivore just call the mushrooms Jalapeño Poppers stuffed Mushroom Steaks. Adding that word steak will trick them every time. Haha.
How to Make Portobello Mushroom "Steaks"
We grill these mushrooms but they can easily be baked or air fried. For the Air Fryer, it takes about 8 minutes at 400 degrees. Just remember in the air fryer they all cook a little different and it's important to check on the food every few minutes until you are familiar with the air fryer.
Grilling Jalapeño Popper Stuffed portobello Mushroom Steaks
I like to rinse the mushroom with cool water and then pat dry with paper towels. Break off the stems. Save the stems for an omelet. Before placing the mushrooms on the grill spray them with your favorite cooking spray. We use Butter or Olive Oil spray. Spray both sides of the mushrooms. Add your favorite seasoning. We like adobo because it seems to really highlight the mushroom.
Place the Mushrooms face down on the grill over direct heat. Leave them there for one to two minutes. Flip over and leave over direct heat for about 30 seconds. Then move the mushrooms to the in-direct heat. There will be a lot of liquid in the middle of the mushrooms, leave that, it keeps the mushroom from drying out.
Mix together cheese, cream cheese and chopped jalapeños. Spoon the cheese into the mushrooms and put the cover of the grill down to melt the cheese. About 5 minutes – depending on how hot the grill is.
When the cheese is nicely melted, move the mushroom to a serving place and sprinkle your favorite topping. Because this is a Jalapeño Popper Stuffed Mushroom we like to have Chopped Cilantro, Green Onions, more chopped jalapeños, creama and even chopped bacon.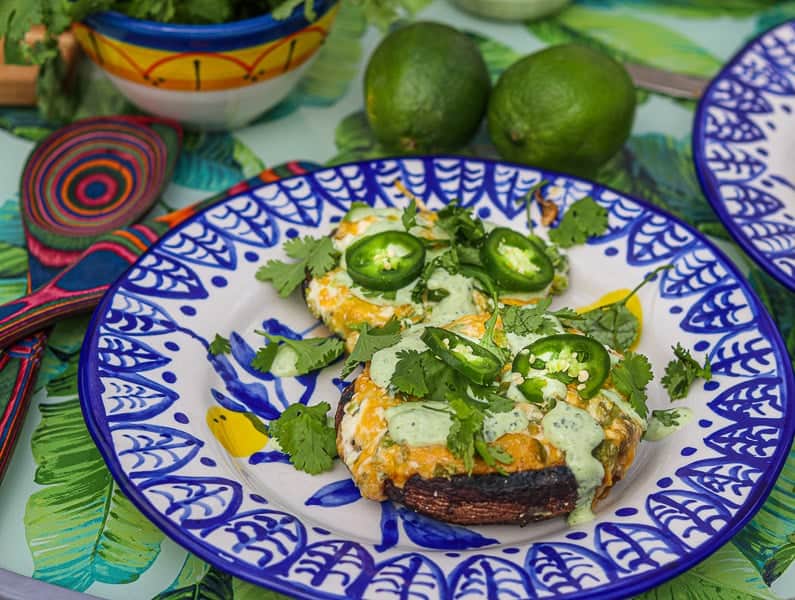 NOTE: If you don't want to chop the Jalapeño for the Jalapeño Popper Stuffed Mushrooms. Place the peppers on the grill and char the skin. Place in a container or paper bag. This will help them steam and make it easy to pull the outside skin off the pepper. Then cut the pepper in half and cut off the stem. Place the pepper in the mushroom and fill with cheese.
We love stuffed mushrooms so much we have several other recipes.⤵️
Blue Cheese Mushrooms
Creamy, cheesy Portobello mushrooms that will put a smile on your face and is easy to build for a party.
Pesto Grilled Portobello Mushrooms with Feta Cheese
Pesto Grilled Portobello Mushrooms with Feta Cheese is an easy recipe that makes for an impressive side or main dish your family will love. Creamy bright pesto, Feta, and crunchy salami tops the perfectly grilled meaty mushroom.
Grilled Mushrooms a Steak lover will want
These grilled mushrooms with gouda cheese will make a steak lover happy. They are low in calories and high in flavor and spice
Bacon Habanero Stuffed Mushrooms
Stuffed Mushrooms with a spicy kick includes all the major food groups…Bacon – Habanero and Mushrooms all mixed with Cream cheese and Ranch dressing. This is a nice spicy stuffed mushroom and super fun to serve at a party. Nothing could be better than spicy bacon habanero stuffed mushrooms.
Jalapeno Popper Stuffed Portobello Mushroom
Jalapeño Popper Stuffed Portobello Mushrooms have everything you love about a popper stuffed in a meaty juicy grilled mushroom.
Ingredients
4

Large

Portobello Caps

2

teaspoons

Adobo Seasoning

8

Ounces

Cheddar Cheese

Shredded

1/2

Cup

Whipped Cream Cheese

4

Jalapeno Peppers

Cooking Spray

1/4

Cup

Cilantro

2

Green Onions
Instructions
Start charcoal or heat up a gas grill

Rinse the mushroom caps and pat dry with a paper towel. Break off mushroom stem

Mix togeter cheddar cheese, cream cheese and jalapeño

Spray the mushroom caps with cooking spray

Sprinkle 1/4 teaspoon Adobo seasoning on each mushroom

Place the mushroom cap face down on the direct heat side of the grill for 1 to 2 minutes. Depending on the heat of the grill

Flip the mushroom over and continue to cook over direct heat for 30 seconds to one minute. Liquid will start to form in the center of the mushroom.

Move the mushroom off the direct heat. Add 1/4 of the cheese mixture to each mushroom

Cover the grill for 3 to 5 minutes until the cheese is melted. Remove the mushrooms from the grill.

Top with your favorite extras like Cilatro, green onions, Creama or even Bacon. Enjoy!!!!!
Nutrition
Calories:
318
kcal
|
Carbohydrates:
9
g
|
Protein:
19
g
|
Fat:
24
g
|
Saturated Fat:
15
g
|
Trans Fat:
1
g
|
Cholesterol:
76
mg
|
Sodium:
503
mg
|
Potassium:
498
mg
|
Fiber:
2
g
|
Sugar:
5
g
|
Vitamin A:
1035
IU
|
Vitamin C:
2
mg
|
Calcium:
500
mg
|
Iron:
2
mg
The post Jalapeño Popper Stuffed Portobello Mushroom appeared first on Belly Laugh Living.