I have to start this off with a full confession…. we love Taco Bell! I never thought I would have to talk about Taco Bell in a blog post. ???? One of our favorite treats from Taco Bell is a crunchwrap. Soooooo, yes, we had to recreate one of our favorites and, of course, we had to do it in the Air Fryer. Now, don't get me wrong, I love everything that Taco Bell has on the menu. The crunchwrap is just one of our top picks!
Who wouldn't love a flour tortilla layered with seasoned ground turkey, oooey gooey cheese, a crunchy corn tortilla, all folded together and placed in the air fryer until it reaches crunch perfection.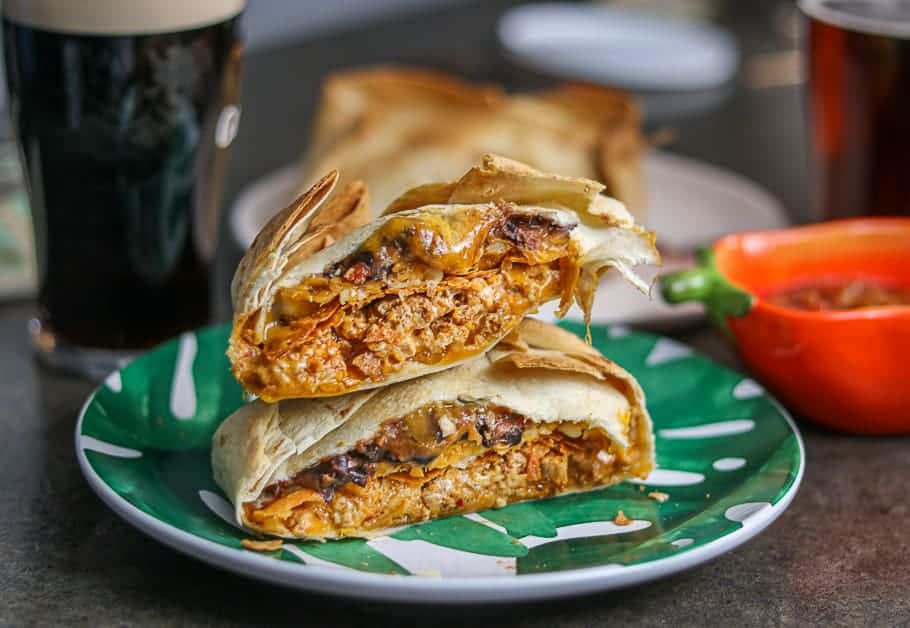 This is one of those recipes where you can add additional ingredients depending on what you love in a crunchwrap…. or what's in the fridge and pantry. For example, if you want to add some lettuce and tomatoes, Go ahead and add them, it works great!
Homemade Taco Seasoning
The homemade taco seasoning recipe is below. This is one of those "mixes" we always try to keep on hand. Just get a jar add in the spices and stir. It's perfect for seasoning ground turkey, chicken, or beef for taco night…..or crunchwrap night! ????We've even sprinkled it on chicken and grilled it to add a little spice to a chicken dinner.
Homemade Taco Seasoning
Homemade taco seasoning mix.
Crunchwrap Steps!
Cook the ground meat with the taco seasoning. We add the seasoning as soon as we start to cook the ground meat to ensure the taco seasoning really flavors the ground meat. Some of the seasoning will stick to the pan but don't worry when water is added it will cook right into the meat.
After the meat is cooked and has cooled some, stir in part of the cheeses. This will ensure the flavors are all mixed together in the crunchwrap. We add whipped cream cheese to "stretch" the cheese and add extra creaminess. This is a fun trick to cut some of the fat in dishes that you would normally load up with cheese. The cream cheese makes the dish so creamy that you forget there's less cheddar cheese because you're not missing that creamy texture. Plus, no one will know that calories are cut by using the cream cheese.
Refried Black Beans
If you prefer brown beans for the refried beans just use pinto beans. I personally prefer black beans, I think they have more flavor but I have been told its a personal preference. Either way, it's the same ingredients and steps for both beans.
Put the CRUNCH in Crunchwrap
Air Fry Corn Tortillas: Spray the corn tortilla with cooking spray and air fry for about 5 minutes. This will add that "Crunch" to the wrap. Lay a corn tortilla on a large flour tortilla. Then cut the flour tortilla to the same size as the corn tortilla. The cut flour tortilla will be the "lid" for your crunchwrap. This will help the tortilla to seal all the way around. We don't want ANY filling getting out!! ???? TIP: We've found that using the Street Taco Corn Tortillas and Street Flour Tortillas makes this step easier. The Street Taco size fits perfectly and there is no need to cut any tortillas.
Building the Wrap!
Lay out a large flour tortilla, add cheese, cooked ground turkey mixture, crispy air fried corn tortilla, more cheese, refried beans, and more cheese. Top with the cut out flour tortilla (or street taco flour tortilla). Note: If you want lettuce and tomatoes in the crunchwrap add them on top of the last layer of cheese.
How to Fold the Crunchwrap
Fold up sides, insert toothpicks in each fold to hold the crunchwrap together. To hold the wrap together insert a toothpick. NOTE: Insert the toothpick is like a sewing pin. This will secure the edge of the large tortilla with the top/small tortilla. Spray with cooking spray to seal the flour tortilla edges. Note: Remember how many toothpicks are used, so you know you got them all out!
Air Fry the Crunchwrap
Spray all sides of the crunchwrap with cooking spray. I like to use butter spray just because of the flavor that it adds to the flour tortilla. Olive Oil spray also works great! Place in the air fryer, cook for 5 minutes and check . Depending on your air fryer, you may have to cook for 2 to 4 additional minutes. When the crunchwrap has the golden color desired remove it from the air fryer. Don't forget to remove the toothpicks from the crunchwrap before serving.
Enjoy!!!!
Cut the wrap. Serve with Salsa, sour cream, jalapeños, and of course a nice cold beer!
Air Fryer Crunchwrap
This Air Fryer Crunchwrap combines layers of taco seasoned turkey, melted cheese, crunchy tortillas, and refried beans wrapped in a crispy tortilla.
Ingredients
1

Pound

Ground Turkey

2

Tablespoons

Taco Seasoning

1

Cup

Cheddar Cheese

1

Cup

Cream Cheese

1

Cup

Colby Cheese

or Montery Jack Cheese

2

Cups

Black Beans

1/2

Cup

Salsa

8

Flour Tortillas

8

Street Taco Corn Tortillas

8

Street Taco Flour Tortillas
Instructions
Place ground turkey in large sauté pan. Add taco seasoning.

When ground turkey is completely cooked. (about 5 minutes). Add 1/2 Cup water to the turkey. Turn down to simmer and cook until water has cooked away.

Mix together cooked ground turkey, 1 cup each of cream cheese, cheddar, and Colby (or Monterey jack) cheeses

In a separate bowl, mix together 2 cups black bean and 1/2 cup salsa.

Skip this step if using Street Taco sized corn and flour tortillas.

If using larger corn tortillas: Lay a corn tortilla on the edge of a large flour tortilla. Cut the flour tortilla to the size of the corn tortilla. This extra piece of flour tortilla will be used to ensure the crunchwrap can be closed.

Spray the corn tortilla with cooking spray. Place in the air fryer and cook at 400 degrees for 5 minutes. Flip over and cook for an additional 2 minutes
Layer the Crunchwrap
Lay a large flour tortilla on a flat surface and add 1/2 cup of the cooked ground turkey cheese mixture

Place air fried corn tortilla on top of the meat

Place 1 Tablespoon cheese on top of corn tortilla (Optional)

Place 1/4 Cup of the black bean mixture on top of the cheese and crispy corn tortilla

Place 2 Tablespoons of cheese on top of black beans (Optional)

Place the street taco flour tortilla OR the cut out flour tortilla circle on top. Spray edges of top with cooking spray

Fold sides of flour tortilla up and secure with cooking spray and toothpicks`

Continue to fold all sides until completely folded and closed

Lightly spray cooking spray on the edges of flour tortilla to seal.

Spray bottom and sides of the flour tortilla with cooking spray. Also spray the bottom of the air fryer so the crunchwrap won't stick.

Place crunchwraps in the air fryer. Cook for 7 minutes at 400 degrees. `

Check and cook for additional 1 to 3 minutes at 400 degrees until crunchwrap is golden brown.

Remove the crunchwrap from the air fryer. Serve with your favorite condiments. We like additional salsa, jalapeños, and sour cream
Nutrition
Calories:
446
kcal
|
Carbohydrates:
31
g
|
Protein:
29
g
|
Fat:
23
g
|
Saturated Fat:
13
g
|
Trans Fat:
1
g
|
Cholesterol:
93
mg
|
Sodium:
621
mg
|
Potassium:
463
mg
|
Fiber:
5
g
|
Sugar:
3
g
|
Vitamin A:
801
IU
|
Vitamin C:
1
mg
|
Calcium:
290
mg
|
Iron:
3
mg
The post Air Fryer Crunchwrap appeared first on Belly Laugh Living.